Shawn is an Associate Professor of Visual Art, Faculty of Creative and Critical Studies at the University of British Columbia. Although initially drawn to an academic career in the environmental sciences, he pursued Fine Arts and Art History degrees in Saskatchewan as well as a Master of Fine Arts degree in Alberta. He has taught for the University of Alberta and Brock University. His research interests include contemporary painting, drawing and printmaking practices concerning relational abstraction, environmental aesthetics, religion, the landscape as well as issues bordering abstraction and representation.
He was born in Prince Albert, Saskatchewan and grew up exploring the northern reaches of his home province's lakes and river systems. Prince Albert, often called the gateway to the north, is located in the broad valley of the North Saskatchewan River near the geographical center of the province where the agricultural prairie of the south meets the rich forest belt of the north. It is close to the famous Emma Lake artist's school where many influential artists have lived and worked.
Shawn currently lives in the Okanagan region of British Columbia with his wife and children.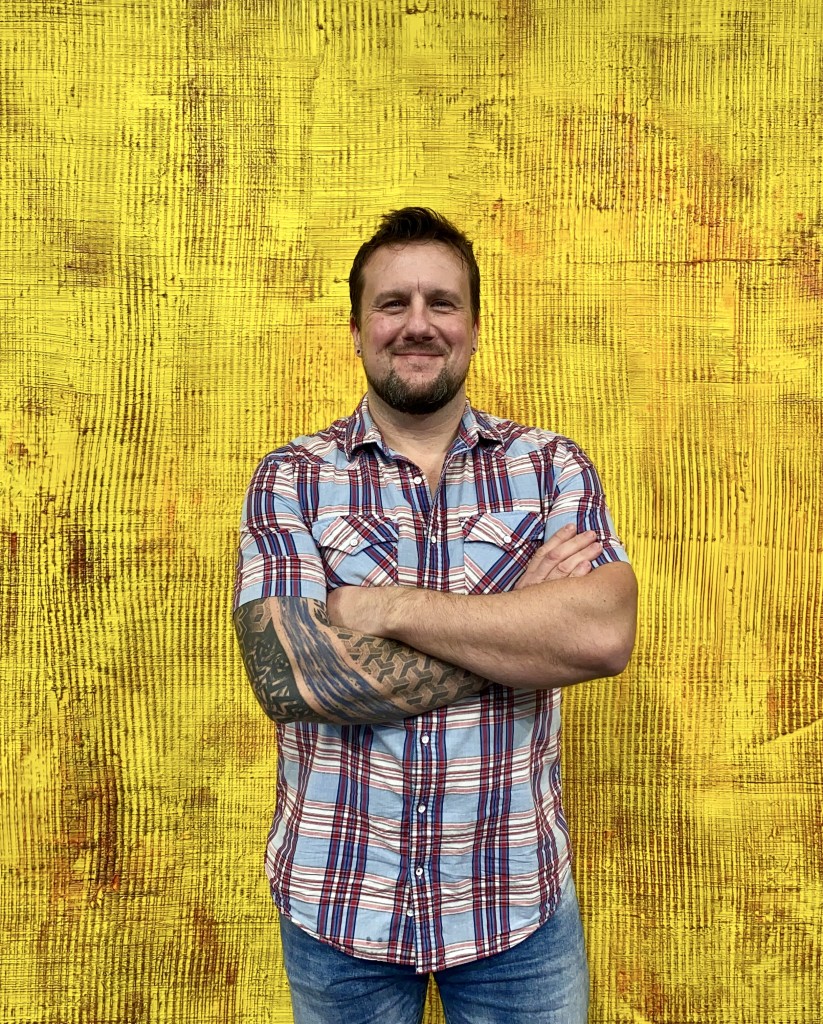 Shawn Serfas, St. Catharines Studio, 2020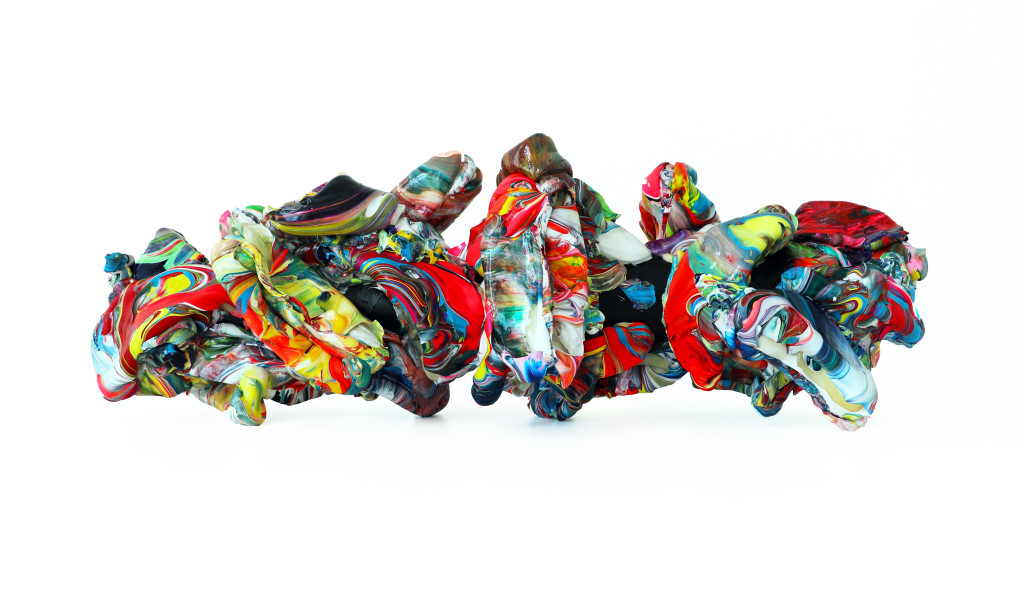 Parade, Profile No.1, Possible Object Series, 2018
Acrylic on Dimensional Canvas
71 cm x 25 cm x 25 cm (28 inches x 10 inches x 10 inches)
Union no.3, Left Profile, Possible Object Series, 2016-17
Acrylic on Canvas
20 cm x 20 cm x (D)25cm (8 inches x 8 inches x 10 inches of relief)
24 cm x 24 cm (9.5 inches x 9.5 inches) Framed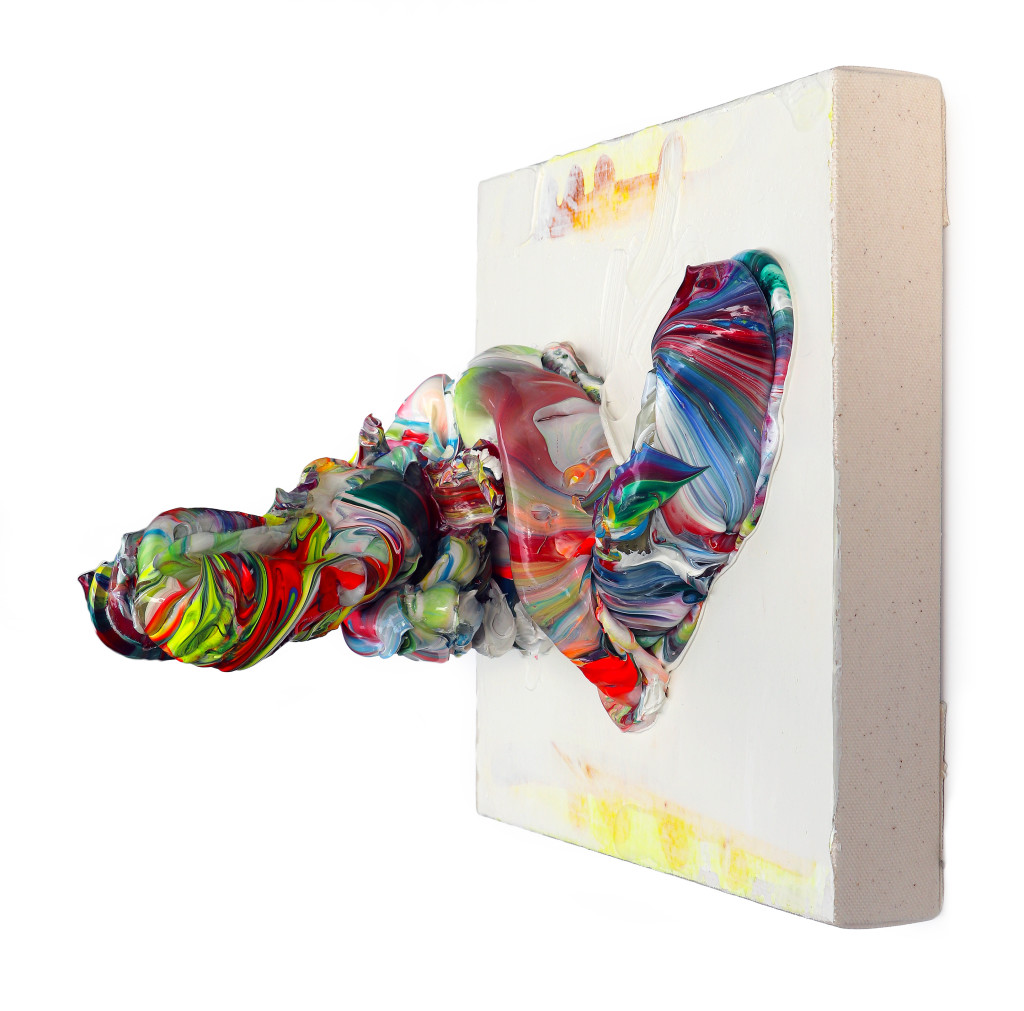 Turning, Left Profile, Possible Object Series, 2018
Acrylic on Canvas Panel
25 cm x 25 cm x 18 cm (10 inches x 10 inches x 7 inches)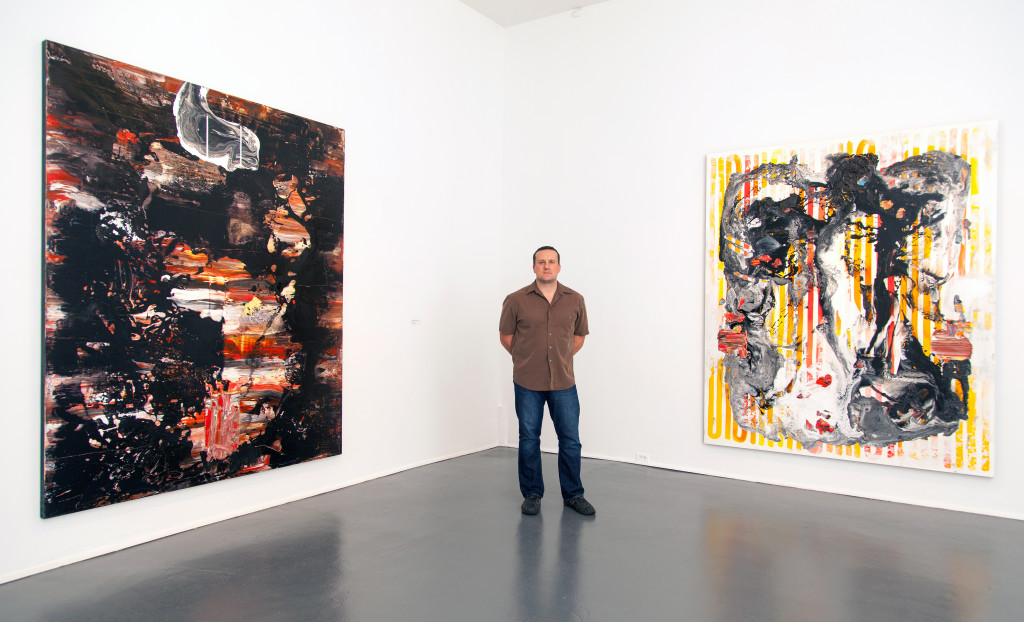 Shawn Serfas, Inland, Rodman Hall Art Centre, Ontario, 2016
Photograph, Danny Custodio, 2016

Excerpt – Stuart Reid, Shawn Serfas: Inland, (Exhibition Text Panel), Rodman Hall Art Centre, Ontario, January – March 2016
Swirling, thrusting marks traverse complex surfaces in this new body of large-scale abstract paintings called the Inland Series by Shawn Serfas. The artist explores the toxic potential of oily black as it infuses the ground, almost extinguishing the incendiary bars of hot red and yellow that burn like a furnace in the bottom quadrant of several of the paintings. Manipulating the liquidity of paint, the artist creates wet layers and crackling surfaces that illustrate the alchemic properties of the material. Serfas addresses environmental issues in these works, the uneasy pollution of materials seeping into the unspoiled cells of pure colour. This world is in dramatic flux, churning and changing; each painting evidence of an arrested state of human-made unbalance.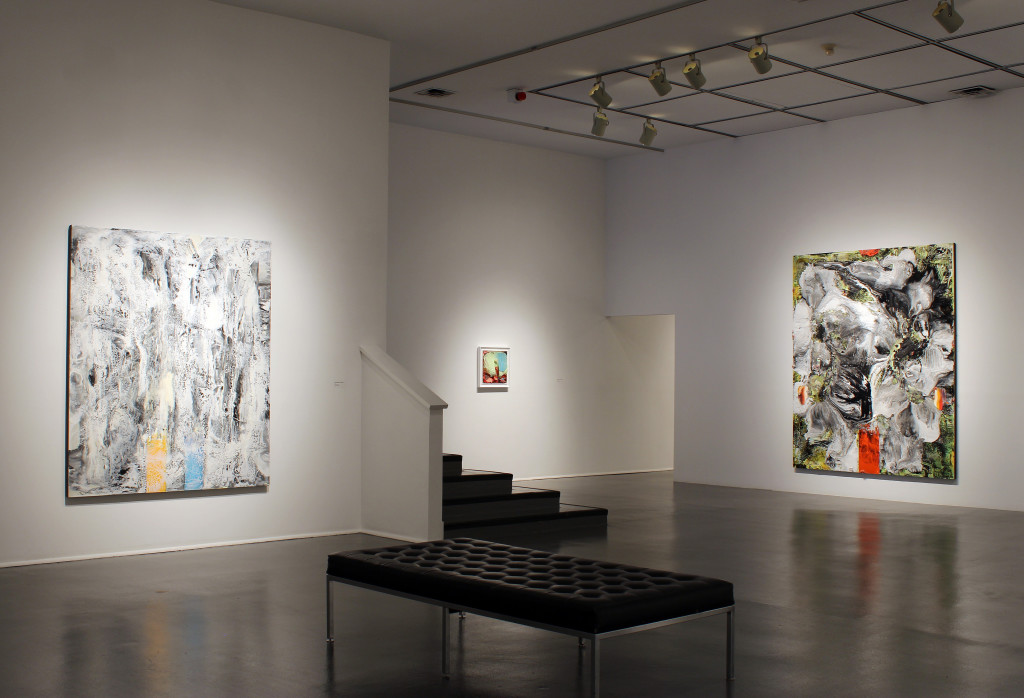 Photograph, Shawn Serfas, 2016
Inland, Rodman Hall Art Centre, Ontario, 2016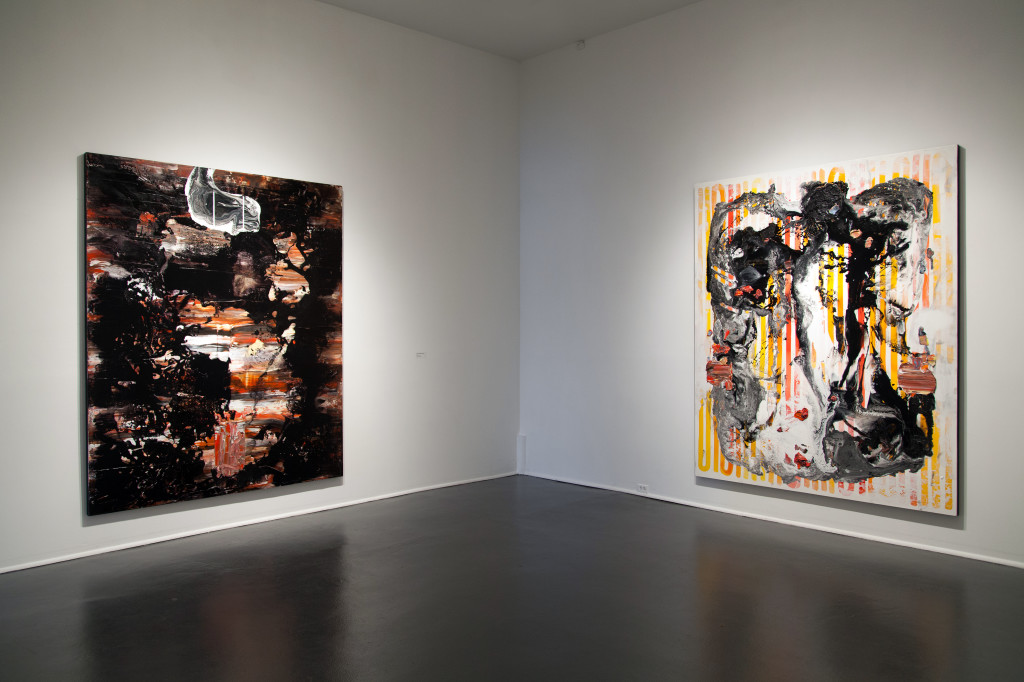 Photograph, Danny Custodio, 2016
Inland, Rodman Hall Art Centre, Ontario, 2016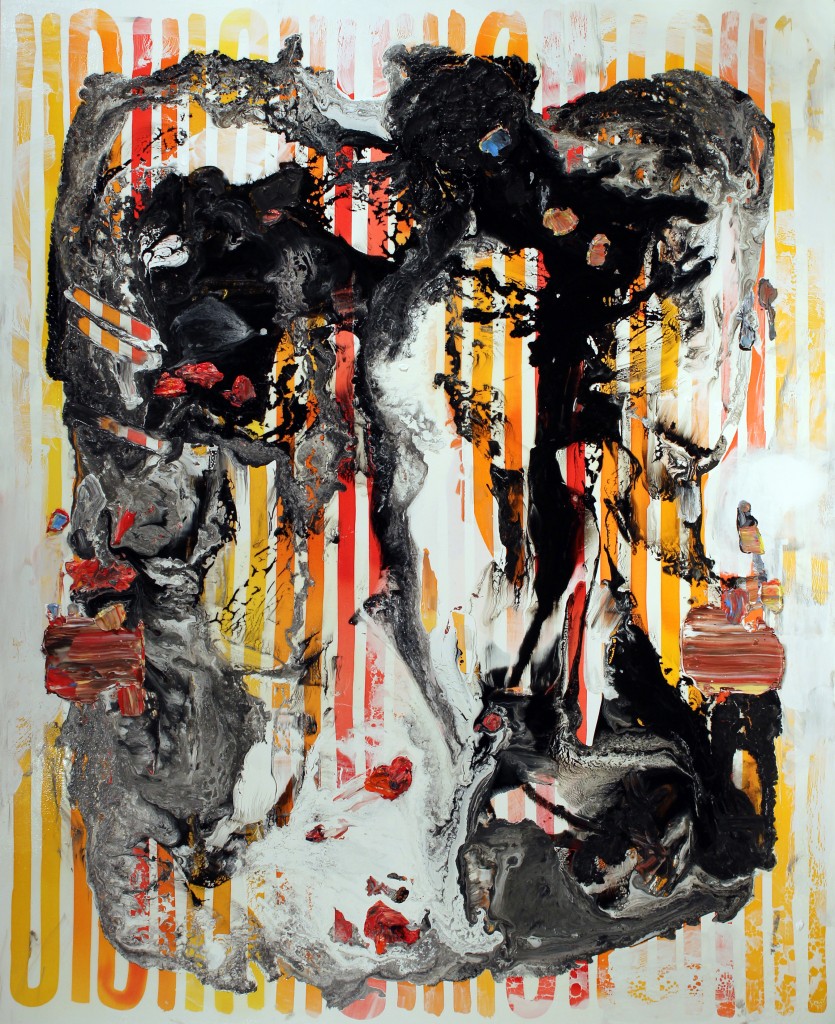 Blacken, Plaything Series, 2013
Acrylic on Canvas
249 cm x 198 cm (98 inches x 78 inches)
Excerpt – Derek J.J. Knight, Shawn Serfas: Trenchant Gesture, Topography and Painting's Ethereal Nature. St. Catharines, ON and Vienna, Austria: Small Walker Press and Salon für Kunstbuch, 2019
Shawn Serfas: Inland, Rodman Hall Art Centre, Ontario, January – March 2016
W.O. Mitchell in his novel Who has Seen the Wind (1947) speaks about the dominance of the sky on the prairie and the poetic nuances of the world as expressed through the sentiment of natural phenomenon. The flatness of the land and the horizon line are monikers of a timeless existence. A painter such as Shawn Serfas defies the material inertia that sometimes accompanies landscape painting. The intricate web or layering, especially in his large canvases of repeated, bold gestures, expressive feints and labyrinthine calligraphy, provides us with a surface scrim behind whose opaque, shimmering masque we detect an undercurrent of fluid movement. Although Serfas speaks of his Prairie origins and his subsequent years in the B.C. interior and the influence of his environs one cannot detect the usual convention of a horizon line or solid mass delineated by an ethereal, clouded or feckless sky. Rather, he presents a series of canvases that reignite our imagination and ultimately remake the experience of the world as a force of art and nature.
Inland is an eclectic collection of works, some big, some small; some colourful, some dark; some scumbled with broad flat gestures and some pushing outward into three dimensions. There is a broad spectrum here that suggests we are privy to an important shift in the artist's evolution as a painter whose trajectory is steep and unyielding. While this is not a retrospective Inland hinges on a critical shift from large format canvases of varying complexity to smaller compendia of a colourful, organic character. This is an artist who is comfortable with formal experimentation and who remains absorbed by the dynamic properties of the medium or "physics of painting" as he coins.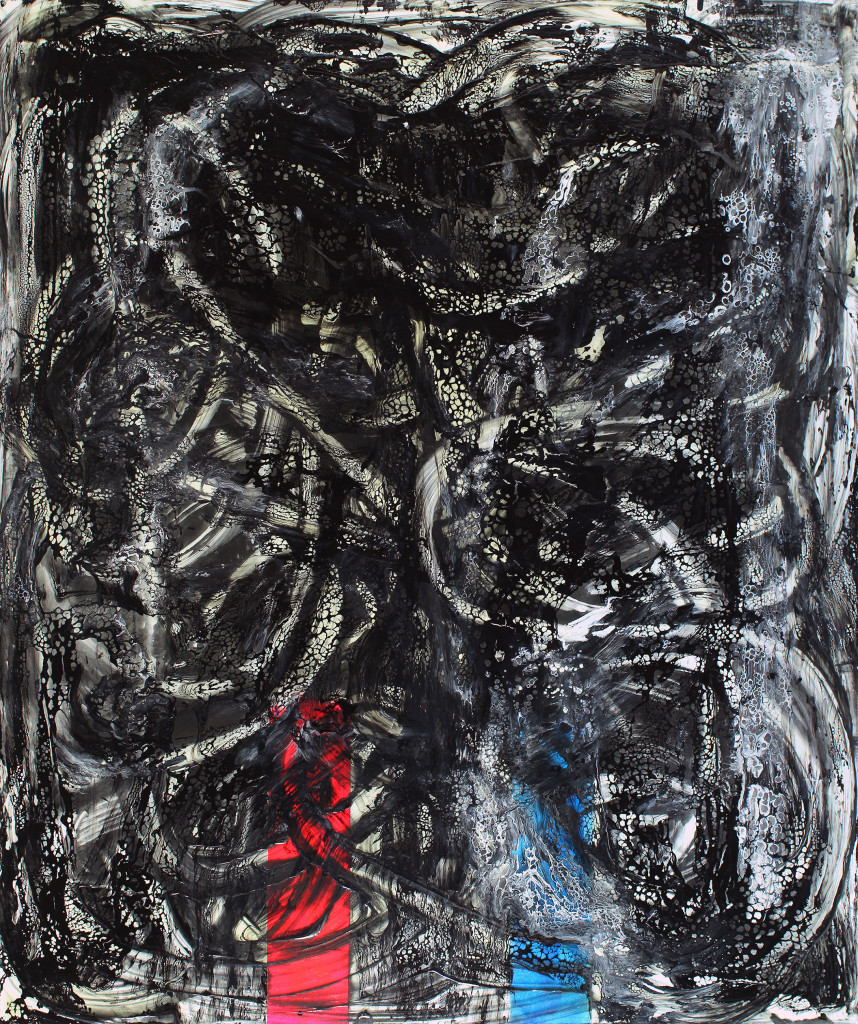 Inland no.2, Inland Series, 2014
Acrylic on Canvas
193 cm x 163 cm (76 inches x 64 inches)
However, language is never precise enough to explain deeply seeded intention and yet we recognize at the heart of Serfas' exploration of the morphological origins of painting, an empirical claim. When he likens the flow of paint to viscous or fluvial action, for example, is he making a symbolic connection to water's eroding power, or the environmental damage that extraction processes involving the tar sands or fracking? Importantly, Serfas has come to realize how tenuous is the line between illusion and abstraction. In an instance, the trenchant scaffolding of a large canvas such as Inland Black No .2 (2014) collapses into ephemera, quickened by an internal vortex that disassembles any organizing principle. If metaphorically we see in this action a centrifugal force that spins back to the surface generating a heaving wash in its wake, other interpretive musings are found in the fluvial associations with crude oil or molten lava. As such, Serfas' Inland series evokes an energy, an unsettling turbulence, consistent with the technological sublime, giving us pause to speculate about the impact of industrialization and the mediating influence on his thinking of satellite imagery, aerial photography or meteorological charting.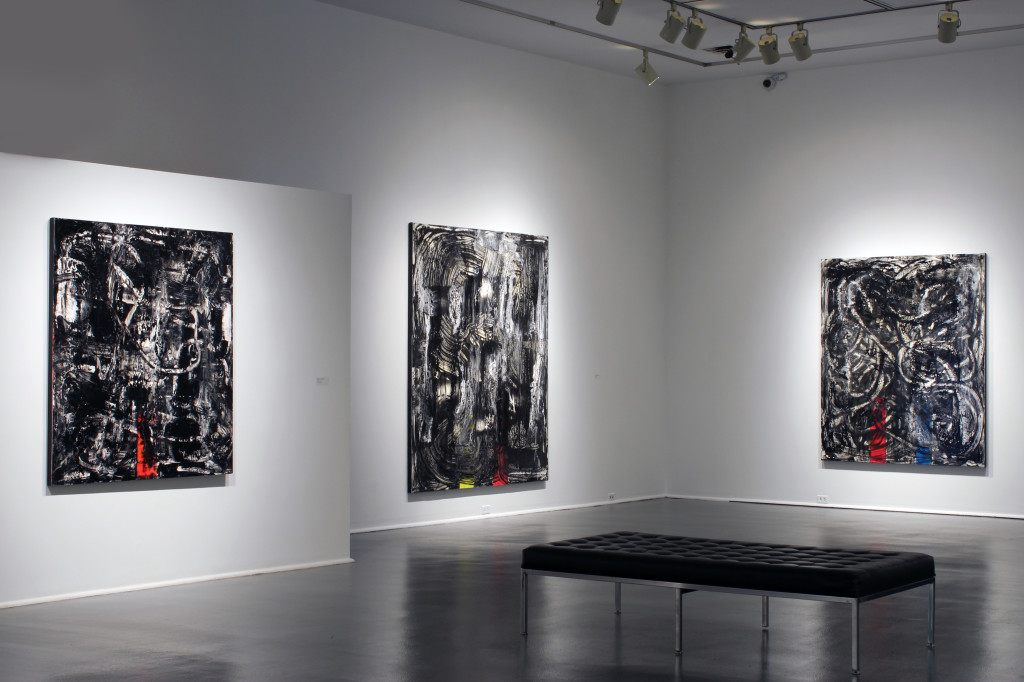 Photograph, Shawn Serfas, 2016
Inland, Rodman Hall Art Centre, Ontario, 2016
A consistent marker that provides a clue into the large canvases of his Inland series is the appearance of twin or singular vertical bars, yellow, red or blue, at the base of some of his works. Flatly painted, they have the appearance of an abstract minimalist element, a mapping coordinate or a scaffold Serfas describes putatively as (boating) docks viewed from above. Metaphorically speaking they are a point from which one pushes out in order to explore the trajectory of time and space, a fully immersive environment in which we float through the obstacles or snags that populate this limned dimension. Yet, we cannot help but be aware of the tactility of the painted surface: dense physical strokes and layers of pigmented colour that stimulate the eye and remind us of the "push-pull" between illusion and facture.
If conventional landscape elements are forsaken generally for a dynamic system of hydraulic forces or exponential flows, there is urgency to this work. It is less their constituent parts and more the drive towards something thematic, epic even; that remains unrelenting especially in these large-format works. The absence of hot pressure hoses, oil derricks, or pipes, say, does not thwart the underlying narrative of a dystopian vision, once we understand that one of the defining motivations for Serfas is his abiding interest and concern for the natural environment.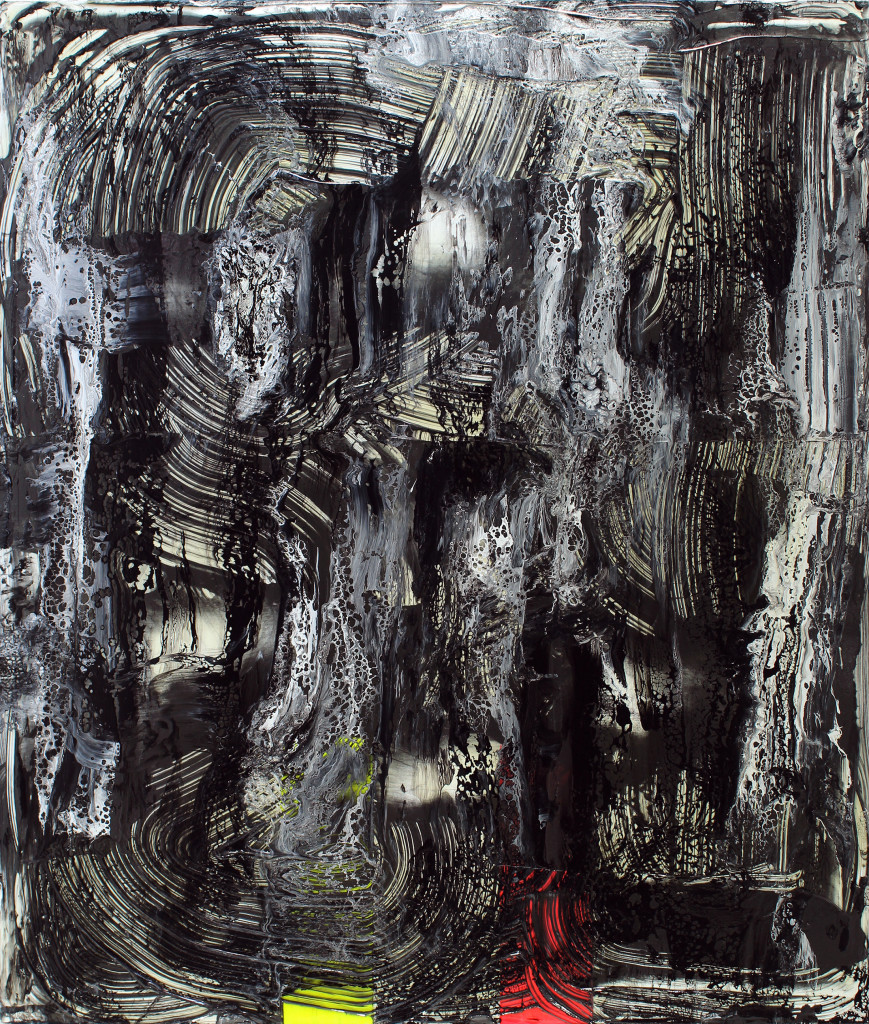 Unnamed, Inland Series, 2014
Acrylic on Canvas
226 cm x 193 cm (89 inches x 76 inches)
Ore, Portrait of a Mark Series, 2015
Acrylic on Canvas
38 cm x 38 cm x (D)10cm (15 inches x 15 inches x 4 inches of relief)
51 cm x 51 cm (20 inches x 20 inches) Framed
Ore, Profile, Portrait of a Mark Series, 2015
Acrylic on Canvas
38 cm x 38 cm x (D)10cm (15 inches x 15 inches x 4 inches of relief)
51 cm x 51 cm (20 inches x 20 inches) Framed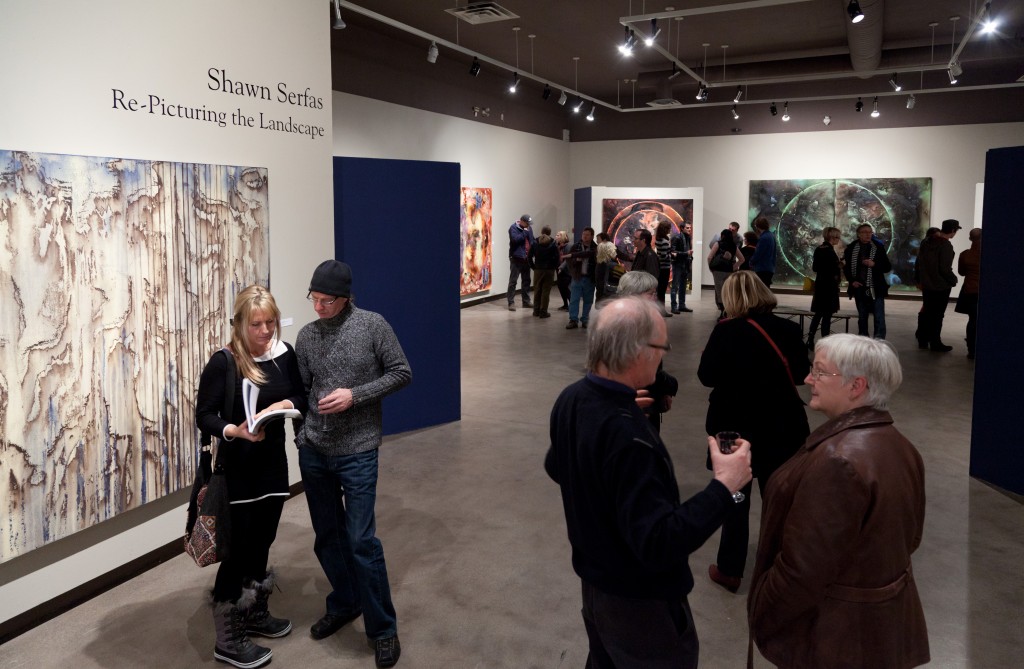 Photograph, Yuri Akuney, 2013
Re-Picturing the Landscape, Penticton Art Gallery, British Columbia, 2013
Excerpt – Donald Stein, Introduction in Re-Picturing The Landscape, (Catalog), Godfrey Dean Art Gallery and Penticton Public Art Gallery, December 2011, p.5
An other-worldliness permeates the paintings of Shawn Serfas. From the densely constructed and manipulated surfaces to the macrocosmic perceptual distance, a sense of multiplicity competes for the foreground. Forty paintings are represented in Re-Picturing the Landscape which probe the connections between self-similarity in material structures, the geomorphology of painting and the relationship of humanity's mark upon the land. The exhibition also examines ideas concerning relational abstraction, environmental aesthetics, the landscape as well as issues bordering abstraction and representation.
In creating the canvases, Serfas applies many layers of substrate, building up depth and complexity with paint. The surface is then worked with geologic intensity: gouging, scraping, incising, inscribing strokes of mechanically unlikely straight lines and perfect circles. Under the insistent scrutiny of high intensity water jets, the landscape of each painting evolves like a glacial plain with the marks of the passing of the intervener left behind like scars on an antedeluvian terrain.
Many of the works are planetary in scale, viewing the circular against a backdrop of a solar flare and the eclipse of spatial companions. Others are more topographical, the inscribed circles referencing compass and astrolabe as means of human negotiation of navigating through space while simultaneously acknowledging the primacy of sacred circles and the residual medicine wheels that are etched onto the Canadian prairie landscape that shaped Serfas's early life.
The paintings imply another surface, another kind of substrate: the surfaces of minerals like micah or chondrite. Macroscopic views of rock surfaces reveal a vocabulary of topology that echoes Serfas's large scale deliberations in paint. Whether unconscious or deliberate, these paintings exemplify the reverberations of construct, colour and intensity that are evident from the cellular up to the global.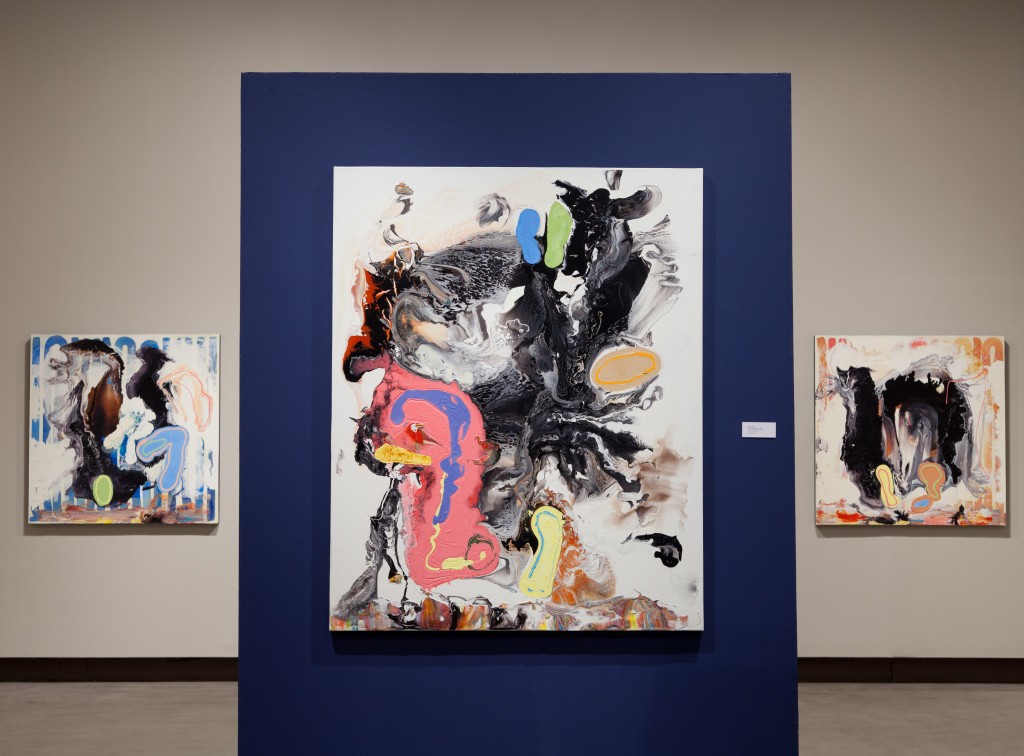 Photograph, Yuri Akuney, 2013
Re-Picturing the Landscape, Penticton Art Gallery, British Columbia, 2013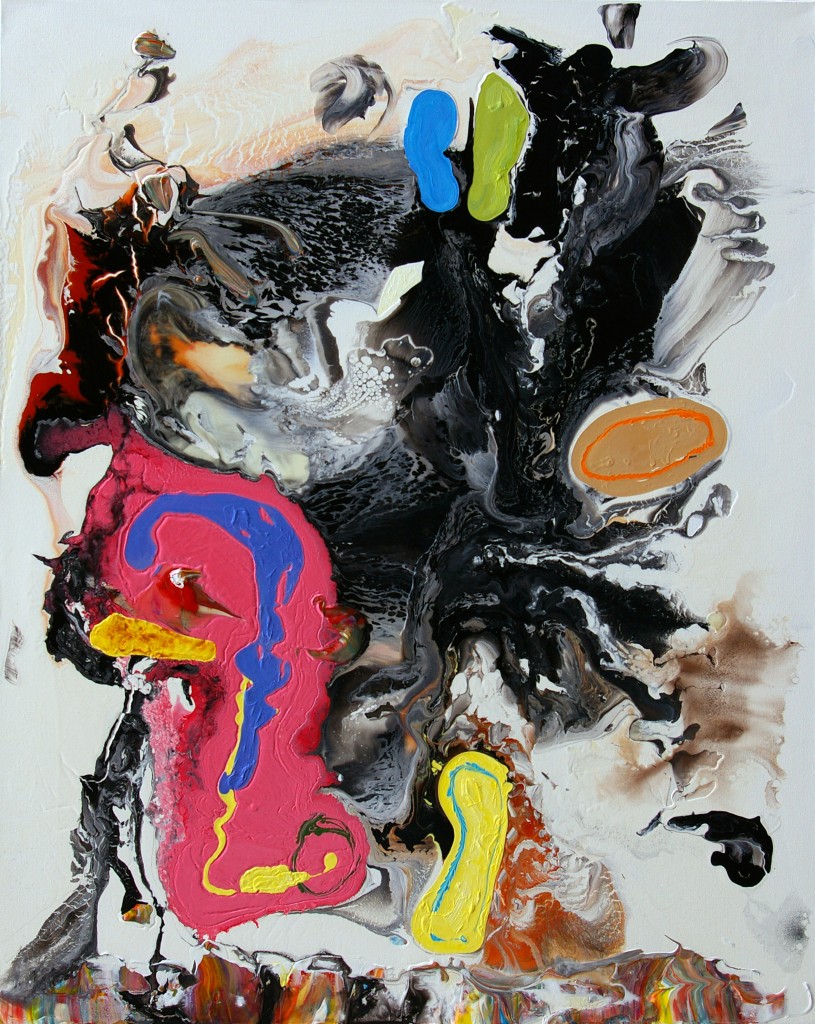 Rise, Plaything Series, 2010
Acrylic, Oil, Mixed Media on Canvas
152.4 cm x 121.9 cm (60 inches x 48 inches)
Excerpt – Lubos Culen, Introduction in Borderlands – Imagining the Immaterial, (Catalogue), Vernon Public Art Gallery, March 2008, pp. 4-5 and 14-24
Serfas identifies himself primarily as a 'landscape painter' influenced by the concept of 'relational abstraction' often referred to as 'associative abstraction'. This approach to art-making is concerned with the extraction of the experiential nature of both material and subliminal environments. Here, an interesting dichotomy arises: the modality of the concept based on the associative 'understanding' of abstract pictorial propositions allows the viewers to find the references to some sort of physical environment created through a process of erosion, sedimentation, and entropy observed from a bird's-eye-view. This fact extends the 'reading' of abstract images past their abstract or nonobjective representational forms. It introduces a possibility of their interpretation linked to the artwork's associative qualities through which we as viewers interpret it. This interpretation is parallel to the viewer's actual experiences of the physical environment.
In the process of constructing images, Serfas links himself with contemporary artists whose work is preoccupied with physical environments on both micro and macro levels. His mode of operation relies on a repeated application of the painting media that results in a substantial physical build-up which reflects an easily imagined material environment. From this point of view, Serfas' images quite successfully express his desire to capture the essence of his preoccupation with the environment.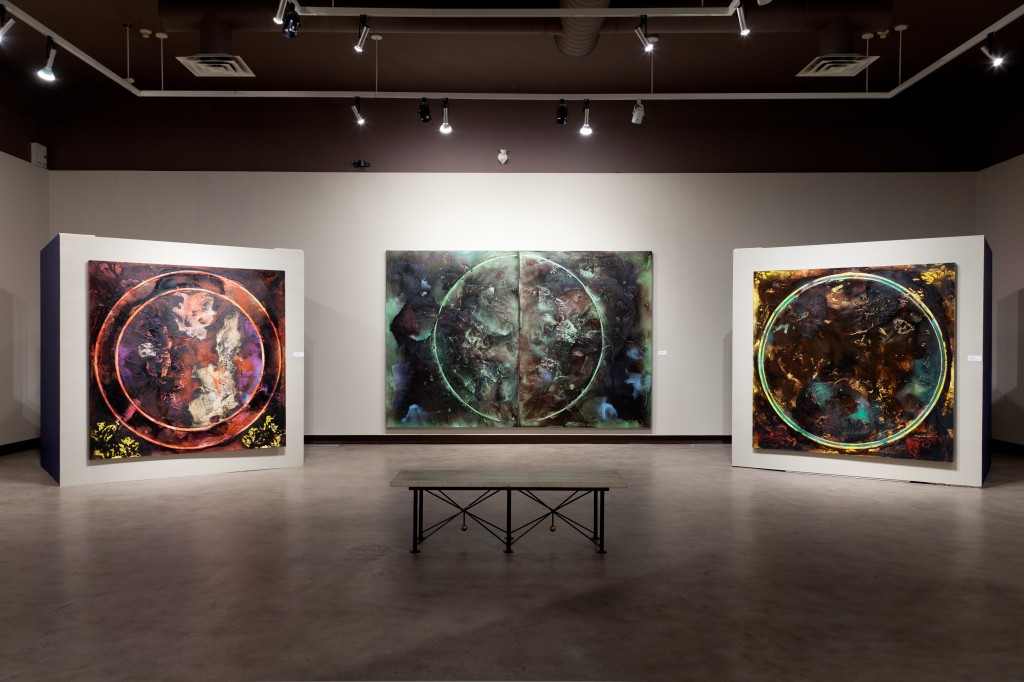 Photograph, Yuri Akuney, 2013
Re-Picturing the Landscape, Penticton Art Gallery, British Columbia, 2013
Excerpt – Carolyn MacHardy. "Liminal Spaces" in Borderlands – Imagining the Immaterial (Catalogue), Vernon Public Art Gallery, March 2008, pp. 6-11
Over the past eight years, Serfas has developed a body of work that circles around issues of our relationship with the land and how we mark it and map it. It's an interest with a strong autobiographical slant: Serfas grew up in the small city of Prince Albert, his family having come to Saskatchewan from Germany and Ukraine in the early 1900s as homesteaders. The idea of a raw and gritty land transformed first by surveying and then by the addition of buildings and crops is embedded in Serfas's family narrative and provides a founding matrix for both his paintings and his interest in environmental sciences. In the same way, being from northern Saskatchewan has been extremely important to the genesis of Serfas's interests: Prince Albert, poised on the boreal plains between the arboreal forests to the north and agricultural lands to the south, is a gateway to Prince Albert National Park (famous in part as the place where Grey Owl invented himself) and then north of that to the Churchill River system, while fifty miles to the east of the city, the two Saskatchewan Rivers, the North and the South, meet in an area called The Forks. Until he moved to Edmonton to pursue an MFA at the University of Alberta, this is the terrain that provided Serfas's spatial markers, a provisional answer to the question "Where am I"?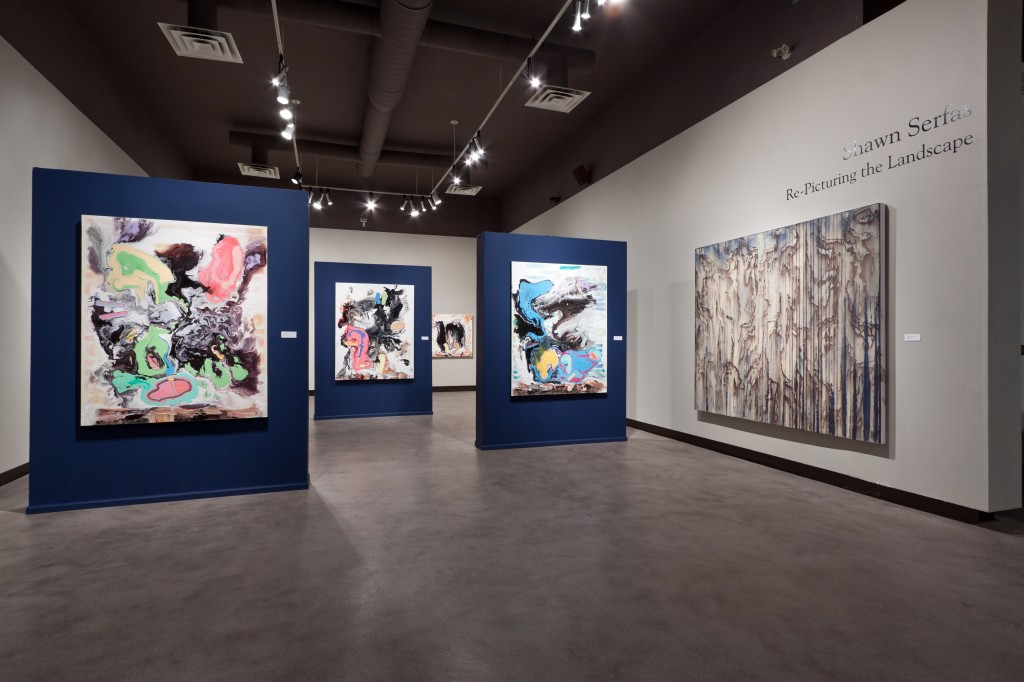 Photograph, Yuri Akuney, 2013
Re-Picturing the Landscape, Penticton Art Gallery, British Columbia, 2013
Serfas's paintings are exuberant and richly textured. He refers to himself as a landscape painter, but his paintings do not offer mimetic descriptions of the view in front of his eye; instead they probe the idea that science, rather than revealing the processes at work both within the earth and on its surface, only makes us more aware that things are happening that are not obvious to the human eye: the processes behind plate tectonics, global warming and melting ice caps, for example, are invisible to all but the most sophisticated technology. And our understanding of nature has been radically challenged over the past century: as writer Johanne Sloane notes, "…nature really is different than it was one hundred years ago… now we know that nature is likely to be altered, toxified or mutated, whether the ecosystem in question is a genetic sequence in the human body or an isolated mountain lake."
Johanne Sloane, "Rainbows and Other Ruins," Afterall 2 (2000), p. 85.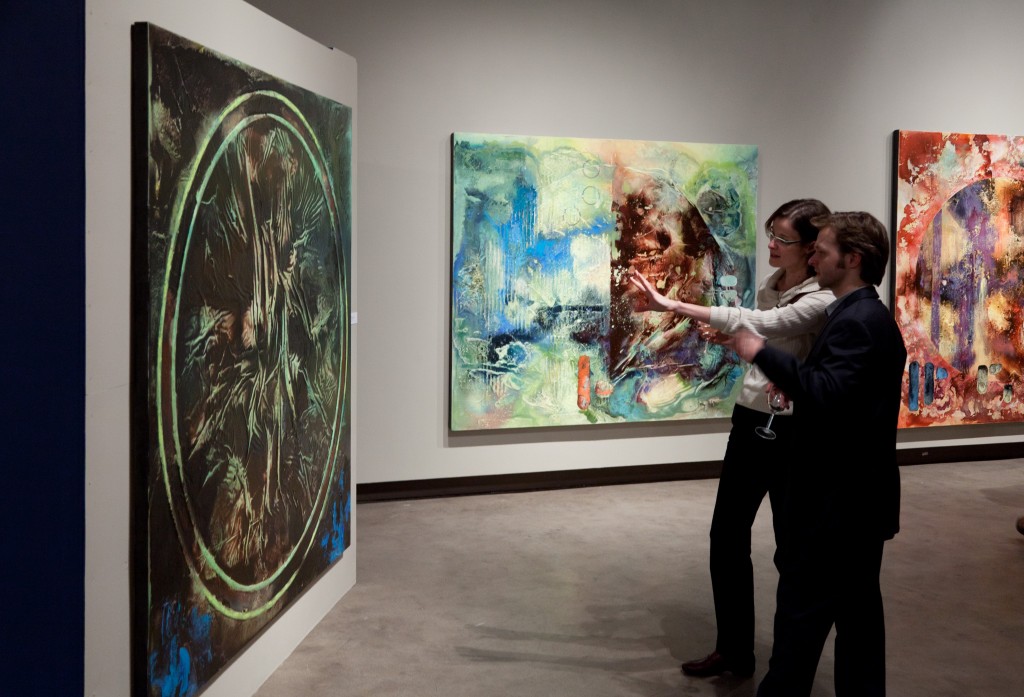 Photograph, Yuri Akuney, 2013
Re-Picturing the Landscape, Penticton Art Gallery, British Columbia, 2013